Guess who was crowned THIS month's dog of the month at the Minnesota Pit Bull Rescue???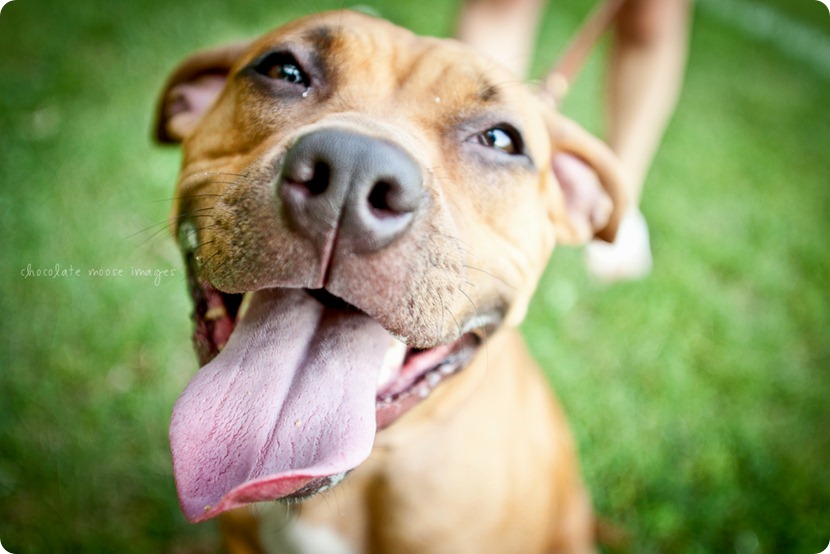 … this girl. Miss Sandy!
And when asked to describe herself she replied with:
Hi! My name is Sandy which pretty much describes my coloring. My foster family keep telling me I'm beautiful but I'm trying not to let that go to my head. They say I have some pretty wonderful wrinkles on my head but since I can't see them, I'll let you judge for yourself. I'm about 2 years old and a bundle of love! I have the wiggles so sometimes I have a hard time sitting still but it's only because I love you THIS much! I love, love, love people and am a good cuddler who also really loves treats and snacks.
She is such a sweetie!!! You may have seen a few of her photos on Chocolate Moose's facebook page or possibly the Pit Rescue's facebook page … but even if that's the case, I bet you'd like to see more 🙂
Seriously … look at those eyes! And that cute forehead!!! She is a doll and a champ for enduring the heat and bugs for these photos 🙂 Her foster mama gets that award too!!
As I always do, I e
ncourage everyone thinking of getting a dog to adopt and not seek out a breeder. There are so many amazing dogs out there in need of homes and I have my fingers crossed that YOU might be Sandy's amazing new family 🙂 If she strikes a chord, please contact the wonderful people at the MN Pit Rescue via email … adopt@mnpitbull.com.