Yet another week almost gone. And another weekend of fun fun fun is almost upon me. Can't wait for this one! Mur and I managed to snag some tickets to what promises to be an amazing show at the Walker Sculpture Garden put on by the best local music station, The Current. Can't wait! I heard such great things about last years show and Mur and I need to get out more, so this is the perfect solution. Now let's all cross our fingers that the weather holds out!
And then Sunday is the big Dad's Day. Not positive what the plan is yet – it will for sure involve a BBQ, a new batch of home brew beer, a fantastic breakfast and most likely some fun. Get your party hat ready, dad. Sunday is going to be a BLAST!
So… the point of my post mentioning Wausau, WI? We'll last weekend I had the fortune to shoot a wedding with a lovely, lovely friend who is so fun, funky and fabulous! Emily Steffen, her lovely assistant Katie and I ventured over to Wausau, WI to shoot a wedding. It was an incredibly beautiful wedding with amazing flowers, lovely dresses and fabulous linens! One of my favorite things about weddings and parties – and life! – are the details. The little things is always the stuff I want to remember most. I feel pretty confident I will remember each event (worth shooting) by itself, but if I don't have a photo of dinner or of the candy wrappers or the disheveled bed-head, how am I going to remember the awesomeness. Details – it's where it's at 🙂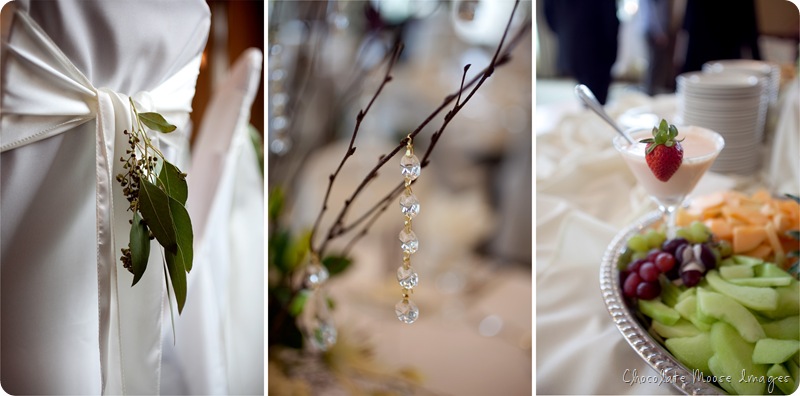 Now, if you've been involved in weddings in the sort of way that doesn't really allow you to eat a ton, you will appreciate how tortuous it was for me to take the far right image. I was as starving as an artist. Ha – bad joke.
These darlins were fun to work with for their mom's wedding. It was all about getting dressed up for Haley (on the left), who absolutely loved twirling on the dance floor. And riding in the limo. And calling me Mrs. Photographer Lady.
I must say, I am starting to really like helping out with wedding photography. Weddings are still not the route I will go, but they are real fun because the pressure isn't on you. Oof. Keep em coming, girl! 🙂