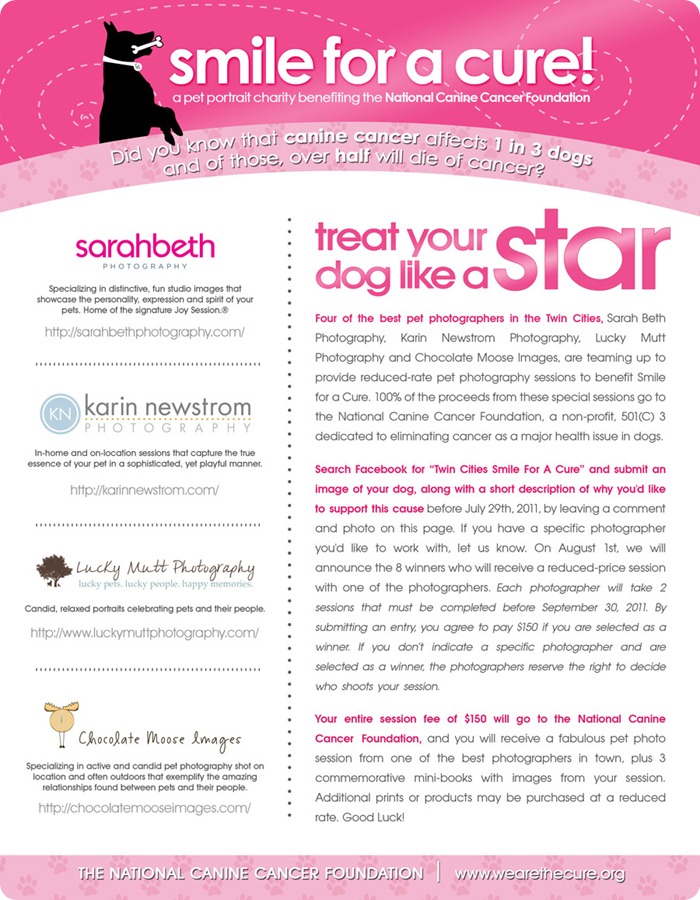 I'm so pleased to announce that myself and 3 other Twin Cities pet photographers are rallying together to raise money and awareness for the fight against canine cancer. The organization Smile for a Cure was started by Nunthany Johnson in loving memory of her dog, Max, who passed away from Canine Cancer. And from that tragedy blossomed Smile for a Cure to not only help families currently dealing with canine cancer, but also to honor those animals long after they are gone, all with the same goal in mind – to cure cancer. 
So, what's the gist? The 4 of us photographers are offering 2 sessions each (8 in total) to be completed sometime during August and September. The price of this session is just $150 and for that you will receive a photo session with one of us fabulously talented ladies + a mini-brag book from your session to show off to anyone and everyone + the amazing feeling knowing that 100% of that price will go to the National Canine Cancer Foundation.
Ok – so now you're interested? FANTASTIC! There's more … In order to receive one of these 8 sessions, we want to see a photo of your dog + a brief description about why you want to support this organization on our Facebook page by July 29th. Once we've closed submissions, the 4 of us will get together and pick the winners. Please keep in mind that by entering you agree to pay the $150 fee if selected as the winner. When you enter you can notate your preferred photographer if you have one and if none is notated, we reserve the right to match you up with who we think will fit best. Also, no more than 2 pets per winning session but negotiating is welcome. More details are noted in the flyer above.
We are all so thrilled to be working together to offer these sessions and more importantly, help out this amazing organization!! Head over to our Facebook page for some touching stories and to enter into this contest. And please share with your friends!! The more the merrier!