Goodness sakes it's almost 2012. I can't believe that! My life still honestly feels like it's in August and the fact that MN has no snow yet is only encouraging that notion. The last 5 weeks have been organized chaos at work but I'm thrilled to be through it. This evening I am attempting to get packed up for my highly anticipated New Years weekend in Iowa and I'm doing so in a serious ADD manner. I'm doing a bit of laundry, a bit of wine drinking, a bit of packing, a bit of sewing, a bit of dishes, a bit of email reading, a bit of gift wrapping and now? A bit of blogging. I have been thinking about these photos all.week.long and I just can't wait any longer to post them. It's just a tease for now with many more to come later!!! 🙂
You may remember Edward the Pug from his birthday party and his winter session last year. Well, here is his 2011-day-after-Christmas-session in which he romped around in the tall grasses in place of snow… I still can't believe it.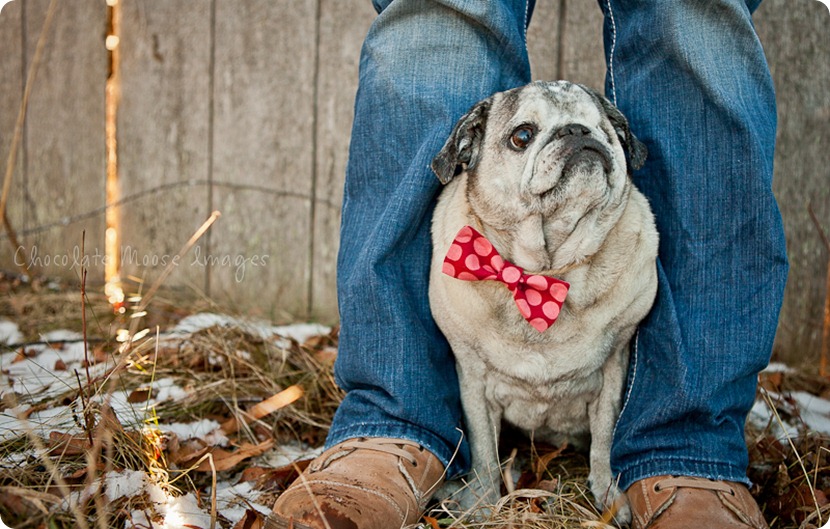 suuuuuch an amazingly big wobbly pug with an amazing tie and an AMAZING family who loves him more than pie…
I am pretty excited to get a few days to myself to be able to edit and whip up some posts because I have some pretty neat-o things to share with everyone 🙂 Stay tuned!! But for now, have a lovely, safe weekend. I will be spending it in Iowa with some FANTASTIC people and I hope to come home with oodles more photos of kiddos and kitties.