After struggling to get wifi most places along my travels, I'm absolutely amazed that I have been given wifi on a bus. ALSA in Spain just got my vote for best bus company in Europe!!
Goodness. So if you've been keeping up on my Instagram posts, you'll know that I'm still moving around Europe at what feels like lightning speed. Thus far I've been to 4 countries in my 2.5 months and I still have 2 more to go in the next 3 weeks. It's been amazing, exhausting, challenging, liberating and unforgettable. And there is so much to outline on here I feel a bit overwhelmed. I have been trying to keep up on my photo editing and have done a pretty ok job. This last week has been an epic trip through Spain with just 2 nights in each of the 3 cities I desperately wanted to dip my toe in; Barcelona, Granada and Seville.
To start, all 3 cities blew me away. On the surface I think it's safe for me to say that Spain is a country I could see myself spending an extended period of time in. Of all the places I've been this far, in Spain life is a bit slower, a bit more relaxed, a bit more understandable (since my high school Spanish has been able to get me further than I expected!) and a bit warmer. Ok. Truth be told, Seville was hot. Like, mid 90s. Way hotter than I expected to encounter on this trip. The thick fleece sweatshirt I lived in in France back in March was almost embarrassing to have hanging from my pack. I'm sure it looks like a parka to the folks I walked past. But in exchange for having so many cold weather clothes, I decided to treat myself to some Spanish fashion. And I definitely love Spanish fashion!!
One of my absolute favorite parts of this trip has been being able to see and learn about little bits of the language and cultures I've found myself in. I knew I would enjoy that but I don't think I realized how much! Food has been a particular favorite which I'm sure is no surprise to anyone who knows me 🙂 A few nights ago I had this as part of my dinner…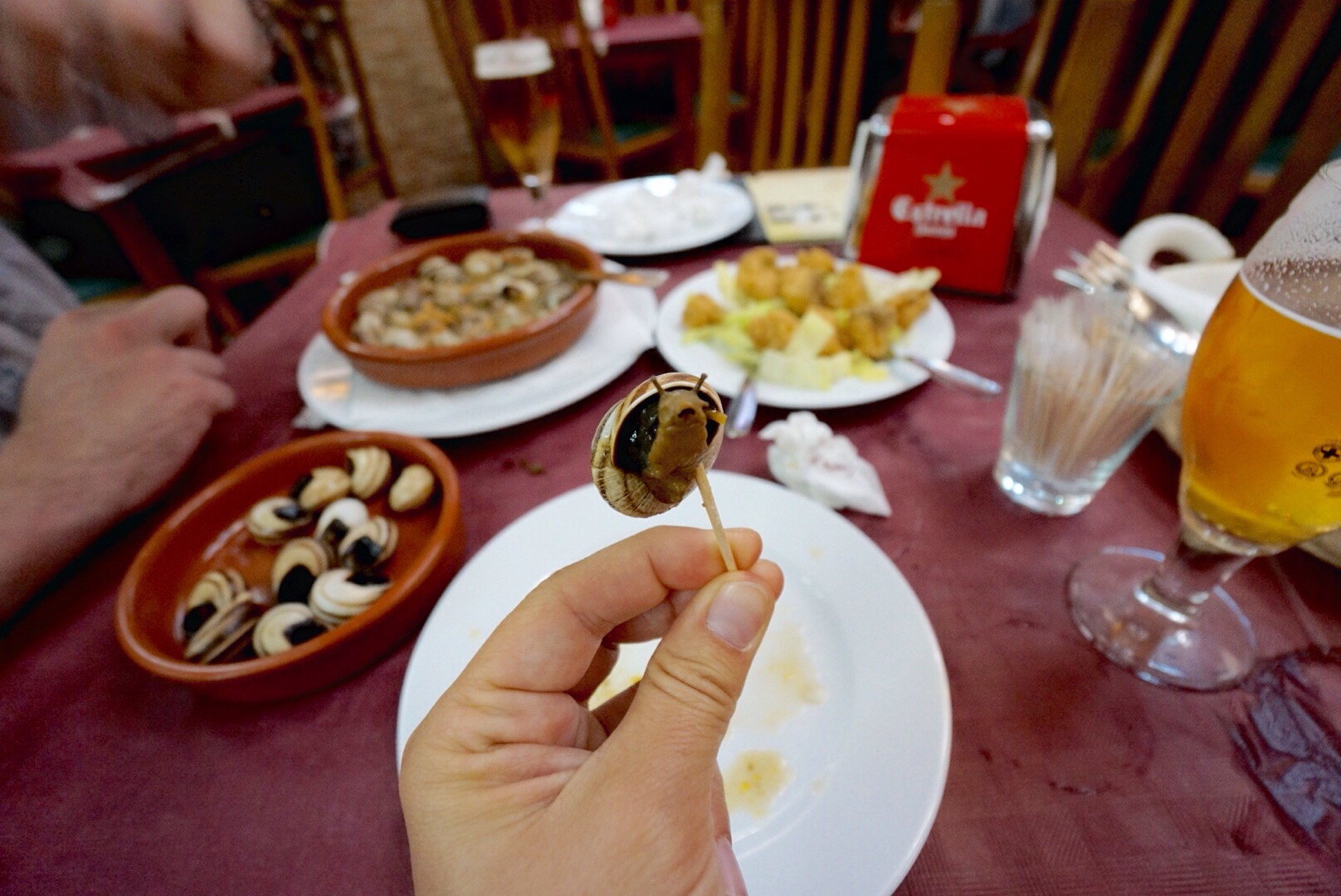 Normally I'm not a fan of eating things that are looking at me [someone else can have my share of pigs head!] but I had to give this a try. I have had snails twice before, both times in France. I figured the Spanish might do things a bit different with their snails. True. They were in a spicier broth and had a slightly less chewy texture. So while I did say I don't normally like eating things that look at me, I do have a rule that I'll try pretty much anything when traveling if it's part of the culture. Therefore, if someone prepared pigs head for me, I'd definitely try it. And actually, this trip has helped me further develop my 'eating while traveling' rules…
1. If something is important to the culture you are in, try it.
2. If someone is showing you around and they have a favorite dish, try it.
3. If you didn't like something once, try it again.
4. If you didn't like something a second time, maybe give it a third try?
5. If you didn't like something a third time, I bet it's not for you.
Through these rules I've learned that I do not like lamb, I do like octopus when I can see the ocean from my table or from my picnic blanket on the beach and snails are fine but not really my cup of tea.
But moving beyond food, there are other amazing things these cities offered up to me! In no particular order, here are some of my favorites…
Ok I lied. At least the first one is in a particular order. My visit to the Sagrada Família was the best thing I have done on my trip thus far. I had been told I had to see it but I really didn't know much about what it was, which is I think part of why it amazed me so much! I should say that my style of traveling is to more or less show up somewhere and see what I can see. It's pretty rare that I have an agenda. And if I do it's pretty likely I don't know much about it, I've just been told I can't return home without seeing X. So when I was told to see the Sagrada Família in Barcelona, I completely failed to use my Spanish skills and figured it was an old family's castle or house or something. Even the photos I had seen of the outside didn't impress me much because I never looked that close. Well gosh. I've never been completely speechless from art or a church before this! I will say no photo can really do it justice, but here are a few of my favorites from the bazillion I took…
I really plan to do an entire post on it, so there will be more later. But wow, right?!
The rest is in no particular order, just photos and places that have made me happy 🙂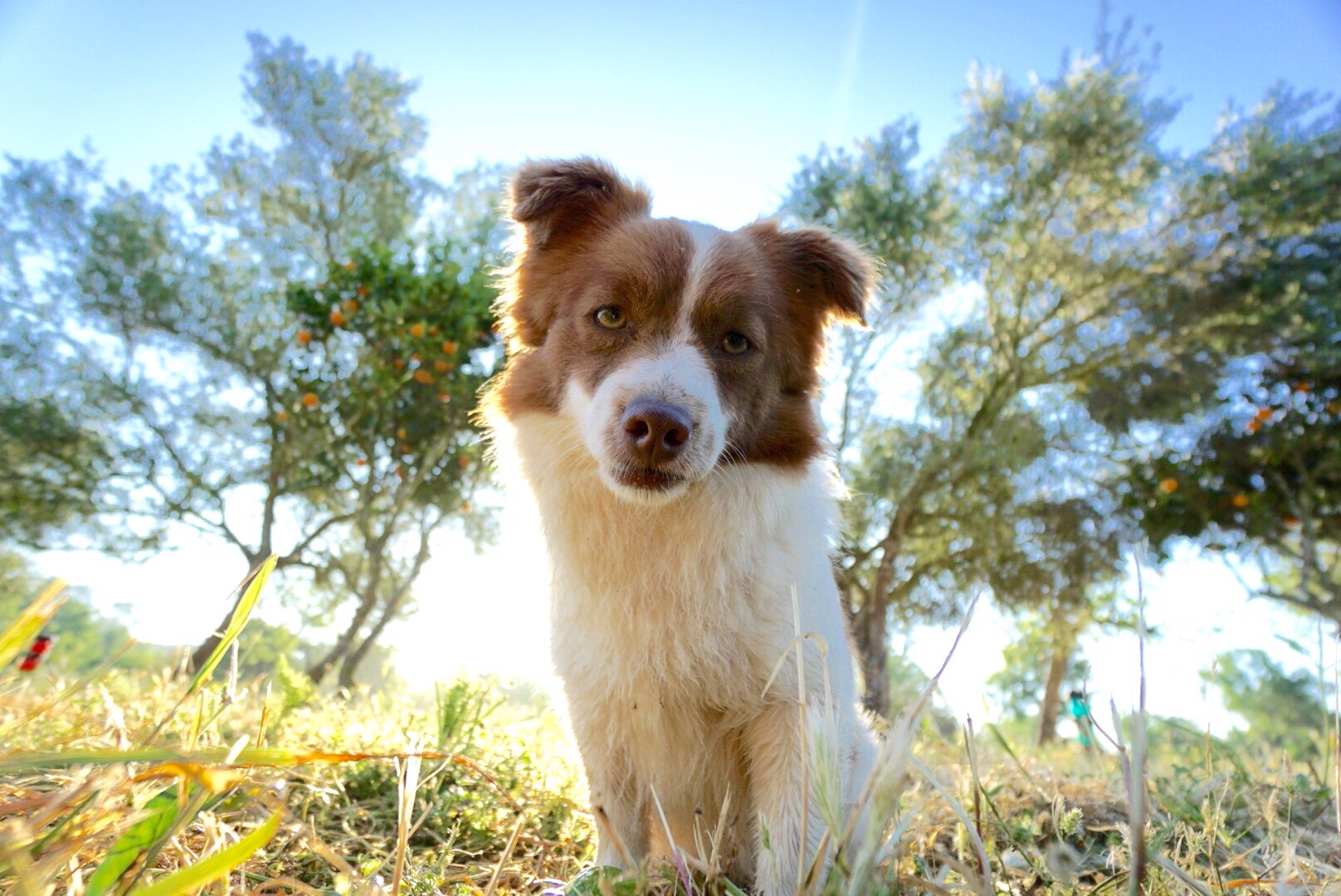 Well, my battery seems to be rapidly dwindling like the rest of the sun on this lovely day in Spain. I think I'm going to take this opportunity to take the siesta I didn't get earlier today. Im starting to get used to mid day naps! Adios, lovely readers. Enjoy your Tuesday!